Kratom Testing
|

Grand Rapids Kratom Laboratory
* Be sure to review our new Kratom submittal form as we have made changes to our packages, services, and pricing.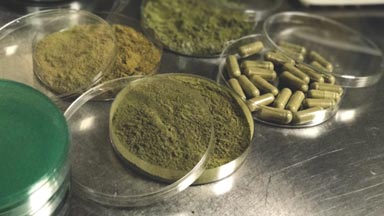 Mitragyna speciosa also known as Kratom has become a valued industry for our operation and we have taken great leaps to offer our services to our valued clients.
Our team has been working with this particular sample matrix for many years and the trained personnel who make up our company are very well versed in the methodology.
Alliance Analytical Laboratories offers both microbiological and chemical analysis testing of kratom to meet all of the needs of our clients. Having worked with many leading companies in the industry, we have tailored specific packages for Kratom to allow for easy sample submissions and results being released via our client specific password protected portal.
Alliance Analytical Laboratories, Inc is an ISO 17025:2017
and regulatory compliance laboratory that has been operating for over 25 years. We service many industries including botanical, natural herb, and neutracuetical companies.
Our testing list for kratom includes but is not limited to:
Salmonella
Listeria
Yeast
Mold
Total Plate Counts
Escherichia coli (E. Coli)
Heavy Metals
Coliforms
Alkaloid Content

Mitragynine
7-hydroxymitragynine

Staphylococcus sp.
Why Test For Kratom?
As with most products of similar characteristics and uses, it is critical to have the product tested due to its natural state.
for a variety of reasons with consumer safety always being a top priority for vendors. Along with product safety you have quality, alkaloid content and other analyses allows for the not only the supplier but the clients as well to have a better understanding of each product that is on the market.
As with any natural product there are many factors in which can directly and indirectly attribute to quality such as growing conditions, harvesting practices, transportation, storage and even packaging and handling practices. When the product is tested at our independent ISO 17025:2017 accredited laboratory you achieve more than just test results, you gain confidence and ease of mind knowing the product is of appropriate quality and safety.
What To Test For
With no regulations being placed on Kratom by regulatory bodies this leaves kratom suppliers and consumers in a tough predicament, we are here to help you gain a better understanding on what to test for and why it is important. When working with Alliance Analytical Laboratories you do not only receive results, you gain knowledge of our kratom testing and results through discussions to help you, our client, understand why particular tests are available and allow you to make the informed decision on your testing needs.
How We Test
Alliance Analytical utilizes State of the art instrumentation and validated methods,HPLC (High performance Liquid Chromatography) , ICP (Inductively Coupled Plasma) andPCR (Polymerase Chain Reaction or DNA Sequencing)technologies to provide fast, accurate, and cost effective results. We understand the limited
and partner with you by having the product tested as soon as possible. This cuts down on your test and hold time as some laboratories can take days to even get your product processed let alone tested and results reported.
Alliance Analytical Laboratories is a kratom testing laboratory in Grand Rapids with national and international capabilities. We look forward to the opportunity of providing our kratom testing services to you and your company. If there are any questions or you would like to speak directly with our team, please contact us at (616) 837-7670 or email Jeremy at jeremy@aatestlabs.com.