Antimicrobial Interventions For Beef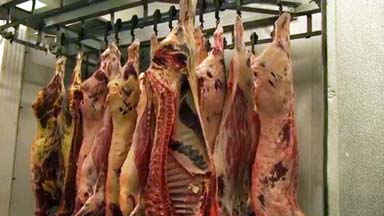 To reduce the amount bacterial contamination at slaughter, certain antimicrobial intervention guidelines should be followed.
There are several food safety tested and proven antimicrobial intervention methods which reduce the amount of bacteria on beef carcasses and eradicate E. coli.
Carcass Trimming
Carcass trimming is the first step in antimicrobial intervention. External bits are cut away from the removing potentially contaminated areas. This process removes debris and microscopic organisms. The process ensures fecal matter is completely eradicated.
Carcass Washing
Following trimming, the carcass washing process is necessary to eliminate bacteria. This is a standard procedure during the food preparation and butchering stage, as it removes bone dust and fragments, and other sinew. Water should be a temperature of 90 to 120 degrees Fahrenheit, to remove further E. Coli.
Lactic Acid Rinse
Lactic acid has been shown to kill E. Coli and other bacteria when used as an antibacterial intervention method. A proper lactic acid rinse consists of spraying the entire carcass twice with a solution of 2.5 percent lactic acid and water sprayed through a high-quality garden-type sprayer with a broad nozzle at a maximum ambient temperature of 130 degrees Fahrenheit. This the solution at this temperature will effectively kill bacteria.
Acetic Acid
Acetic acid is also an effective method of antimicrobial intervention. Rinse the carcass with warm water prior to using an acetic acid rinse. Vinegar contains acetic acid and can be used in place or pure acetic acid. Mix a 8 ounces of five percent acetic acid vinegar with a gallon of water. Rinse the entire carcass with the solution using a high-quality garden-type sprayer at an ambient temperature of up to 130 degrees Fahrenheit. As with lactic acid, two treatments should be done with acetic acid.
Fresh Bloom
Another effective method of antimicrobial intervention is Fresh Bloom. Made by Excalibur Seasonings it contains citric acid, ascorbic acid and eythorbic acid. The carcass should be thoroughly washed with warm water before a Fresh Bloom treatment. Like lactic acid and acetic acid, fresh bloom requires two thorough passes with a broad, garden-type sprayer. Mix 8 ounces of Fresh Bloom with a gallon of water and spray over entire carcass at an ambient temperature of 130 degrees Fahrenheit.
Hot Water Rinse
A simple hot water rinse can also be an effective antimicrobial intervention. Hot water has long been an effective method of bacterial removal. In two passes, using water between 150 and 180 degrees Fahrenheit, rinse the entire carcass thoroughly.
Dry Aging
When performed properly, dry agent is an effective antimicrobial intervention method. Dry or chill the carcass in a cooler for six days at a temperature lower than 41 degrees Fahrenheit to kill E. coli bacteria.
Food safety testing has found all of these antimicrobial intervention methods to be acceptable and effective against E. coli and other microbes. The first two methods are a part of the slaughter process, and might not be considered "intervention", however, they are important to prepare the carcass for the other intervention methods.
Located in Coopersville, MI, Alliance Analytical Laboratories is a testing lab in Michigan with national and international capabilities. Contact us today to request a quote or call us directly at (616) 837-7670.